2018 sgCarMart Star Merchant, Kim Hoe & Co. Pte Ltd, is proud to announce its newly unveiled showroom and online e-commerce store.
10 Jan 2018 | Local News : Singapore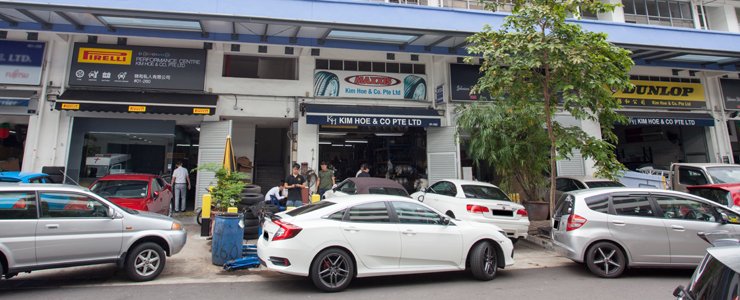 Kim Hoe & Co. Pte Ltd has expanded to serve its customers better. With the newly set up showroom,
customers can have a better view of Kim Hoe & Co.'s product offerings in its cosy lounge while waiting for their
cars to be serviced. The showroom is part of the concept store for Pirelli's exclusive retail network, which consists
of specially selected tyre dealers.
Based on a set of criteria, Kim Hoe & Co. has recently been awarded the prestigious Pirelli Performance Centre
Gold status. The team has passed a rigorous audit to ensure the highest levels of customer-focused service and
technical proficiency.
In the lounge, customers get to enjoy the facilities such as a wide screen desktop with internet access, comfortable sofa seats,
refreshments and a TV, as well as a Pirelli and Formula One tyre display.
Kim Hoe & Co. is one the few tyre dealers in Singapore that allows customers to shop and buy tyres online in a few simple steps,
as well as transparency of tyre pricing up front. Its motto has always been simple, 'More tyres, Great prices'. That's what the
company believes in and how it operates its business.
With the launch of Kim Hoe & Co.'s new online e-commerce store, shopping for tyres is just a click away; 24 hours a day, seven days a week.
Kim Hoe & Co. has been in love with tyres since 1974 and has been sharing that love by helping people to find the right tyres at the right price.
With an extensive range of tyres from popular brands such as Dunlop, Pirelli, Michelin, Goodyear, Bridgestone, Continental, and Yokohama with
ready stock inventory, you can rest assured you will be able to find suitable tyres at the most attractive prices in the market. With over 80 user reviews,
Kim Hoe And Co. Pte Ltd has also been recognised as an sgCarMart Star Merchant 2018 in the tyres & rims category for its service excellence.